Welcome to The Plunge Podcast!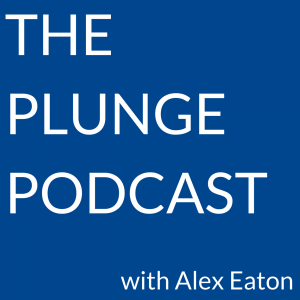 The Plunge podcast is about awesome projects, and the people who create them. Whether you are entering the business world, an artist, a musician, it doesn't matter. This show is about the people who have taken the plunge into something new, risky, or just really freakin' cool.
I'm your host, Alex, and in this show we cover a lot of ground. Sometimes I'll chat about my experiences in business or my newest creative pursuit, sometimes I'll interview someone about their projects. We'll chat about how they do what they do, why they do it, and what they love about it.
It doesn't matter what you do, just that you do something and care about it.
Listen to episodes below, and consider subscribing and following the show. Welcome aboard.
Subscribe and leave a rating on iTunes
Follow The Plunge Podcast on Simplecast
Listen to an episode, find show notes, and more:
How James Dant is Outfitting the Modern Gentleman (TP15)
Building an App Development Studio with Joshua Davidson of Chop Dawg (TP14)
Narrative Storytelling and the Podcasting Process with Allison Behringer (TP13)
How to Get Over Your Fear and Become a Maker with Justin Jackson (TP12)
Making Art and Doing Your Own Thing In Online Business with Matt Giovanisci (TP11)
Learning from Failure and Building a Team with Lesson.ly's Max Yoder (TP10)
How Tinker Coffee is Making Great Coffee Accessible with Co-Founder Steve Hall (TP9)
Is it possible to stop comparing yourself to others? (TP8)
Vlogging and the Art of Video with Curt Pittman (TP7)
Turning A Hobby Into A Career with Scott Stewart (TP6)
Practicing Gratitude and Gaining Perspective (TP5)
An Honest Conversation About Productivity (TP4)
What To Do When You Have No Idea What You Are Doing (TP3)
Childlike Curiosity and Learning New Skills (TP2)
Introduction and New Beginnings (TP1)
If you enjoy The Plunge Podcast, please consider leaving a rating on iTunes, this will help more people find the show, and help grow our community. It's my goal to help others in similar situations by sharing my experiences and perspective. If the show has helped you, consider sharing it with a friend as well. 
Subscribe and leave a rating on iTunes