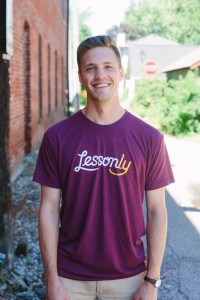 Hey there! Thanks for dropping by my site, my name is Alex Eaton.
I am a marketing specialist at Lessonly in Indianapolis. We help people do better work through learning automation software.
My weekly newsletter is a place to share my recent work as well as unfiltered thoughts on business, career, and creative pursuits. You can see if it's right for you and join up HERE.
I host The Plunge Podcast, a show about awesome projects and the people who work on them. Whether it's a side project, a business, or just a cool hobby I dive into the why and the how of what they do. New episodes are available on iTunes, Google Play, and it's hosted by Simplecast.
I also write a lot of posts here. They generally focus on business and career topics similar to my other projects, but I also write short stories, book reviews, and whatever I'm feeling at the time. Check out a few recent posts:
Beyond that you can find me screaming at my favorite sports teams, grabbing a nice beer or bourbon, mountain biking, running, or planning my next trip.
Feel free to reach out if you want to get in touch, especially if you live in the Indy area. I'm always looking to connect with like-minded people. Cheers!
Connect with me
Some cool stuff I've done
I've written for Pete the Planner, Traveling 9 to 5, and I co-hosted the MoneySmartsU podcast.
Step Up and Stand Out: Your Guide to Beginning Business School
My first e-book, written specifically for new college students looking to make the most of their college career. Get it for free by clicking the link above.