Hello from the land of enchantment. I'm Alex, and this is Rambler, a written travel documentary you signed up for over on the ol' website.
Before we get into it, I stood up a gallery from one of my favorite shoots this year with Denver painter Noelle Phares in her new studio. My friend Nate made a great cinematic video portrait also included in the post, and I focused on stills. I'm using the gallery to try and link up with some artists along my travels to do more of this style of shoot. Documenting artists or craftsmen and women in their working space is one of my favorite subjects. With that… let's get to it.
---
Taos, New Mexico is an oil town. Always has been. Oil is what sells here, it's built into the towns history and they seem to hold onto that tradition like America holds onto church and football on Sundays.
Oil paintings, that is.
At this point I've explored a good chunk of Taos' art galleries and museums and it's all oil all the time. In a few conversations with gallery owners I've learned its what sells here, what Taos is known for and always has been. Learning why is easy with a quick look back.
Taos' art history, as with all American history, starts with the Native Americans at Taos Pueblo, known since ~1300 A.D. and still standing today but unfortunately closed to visitors during my time here, I assume due to COVID. You can still find contemporary weavers, ceramicists, and jewelers in the area creating in the traditional vein that goes back hundreds of years. Just before the turn of the century in 1898, two artists, Bert G. Phillips and Ernest L.  Blumenschein, had to stay in Taos to have a wagon wheel fixed on their way to Mexico. They ended up becoming enamored with the place and stayed. From there more artists came to Taos, forming the Taos Society of Artists in the early 1900s whose work is still on display all over town. As time went more contemporary artists even the uneducated (me) would know like Georgia O'Keefe and Ansel Adams visited Taos as it became an enclave for artistic expression.
But note the time period, early 1900s. Painting was king then, photography was in it's early days, and still decades from being accepted as a fine art. So Taos art in the eastern sense was built on oil paintings. I say in the eastern sense because it was built by Native Americans of course, but European trained artists like Phillips and Blumenschein brought their influence when they started settling here.
As a photographer seeing all this painting has been refreshing and also a little frustrating. Refreshing because it's easy to feel inspired by different mediums. Every painter is truly building their own interpretation of a scene or creating their own vision from scratch, that is something I appreciate and honestly envy a bit. There is something special about this type of creating that is very different from photography, something I wish I had for myself. Ingesting all this painting makes me want to be more abstract with my photography, to find ways to make a statement or show my opinion on something through my work. I'm questioning what I really have to say with my work, if I've been saying anything at all up until now other than "I thought this was pretty."
I also feel frustrated because I, in my bias, always feel photography deserves a place. New Mexico is stunning, there is so much culture and nature to photograph here I'm left shocked by the lack of photography represented. Maybe it's down in Santa Fe and Albuquerque, but in a town where I sometimes feel like there are more galleries than people how is there not more photography? I found one small room of photos in a gallery that held a few interesting images, but when I spoke with the owner he pointed me to the work that sold best… and it was selective color shots of houses. The shot was black and white, but the door of the house was bright teal, as an example. If you could've only seen the expression on my face.
Another gallery owner told me about a photo-focused gallery a woman had started, and promptly closed at the beginning of the pandemic. He said she sold maybe a few pieces in six months, right after he told me how he was selling 9-12 Roberto Ugalde (whose work is stunning) pieces a month himself. I can't control what people want to buy, and galleries are businesses after all.
The only other photo focused spot I found is a print shop where the business is actually making prints, not being a photo gallery. But it had mostly photography shown all around and… it wasn't for me. Awkward sky replacement looking sunset shots, straightforward HDR landscapes, or simple shots of old rundown trucks in a field. I really don't like hating on art in any way, if it makes you happy make your art. But in a place so focused on fine art that shows it at a high level, my experience with photography here has been nothing short of disappointing.
E.I. Couse's early 1900s portraits of Native American's at the Taos Pueblo are the best photos I've seen in Taos. Couse was the first president of the Taos Society of Artists, and one of my favorite painters, Mark Maggiori, made a series of paintings based on his portraits. The paintings were fascinating because they were based on black and white photos, so Maggiori had to interpret all the color for himself. But the photo portraits are powerful, easily the best photo work I've seen here, and they were made 100 years ago.
So here I am, chugging as much Christmas chile (when they give you both red and green chile sauce) as I can handle, admittedly a little fired up. I feel defensive of photography as fine art. I'm taking it a little personally. I want to show them. There is magic in the high desert not just available to painters, and I want give photography a proper chance while I'm here to prove that. Thanks to my lack of taking vacation this year I've got a good chunk of days off before I leave Taos to get after it, but I've already started with a small series of black and white images I made on a hike along the Rio Grande last weekend.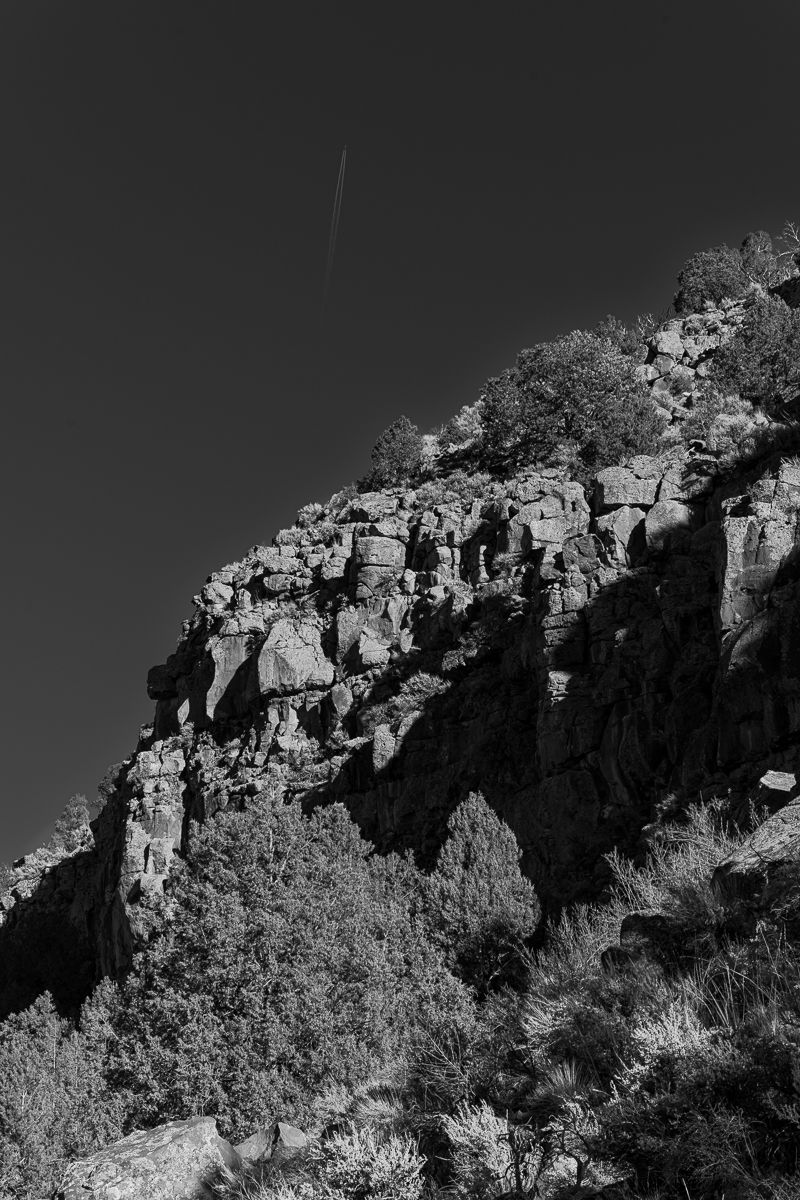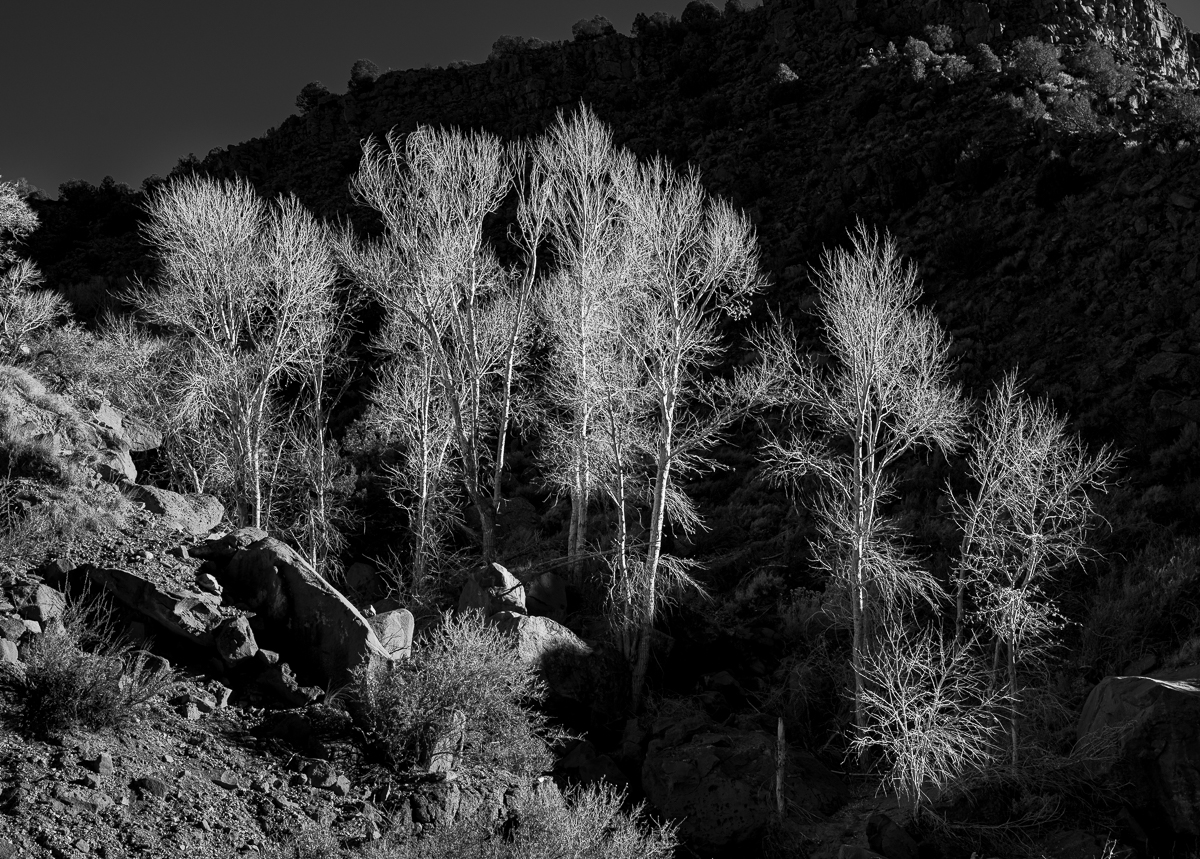 I didn't expect to focus on black and white photos coming here, considering the mindbending winter desert colors. But during golden hour on my hike all I could see was stark contrast and punchy black and white frames. A part of me has always been drawn to B&W, I mostly avoid color in my personal family photos. It lends a timeless quality I think. Sharpens your focus, takes out a variable of what you have to decipher when you look at a photo.
A photo I'm calling "Edge of the Abyss" is my current favorite. The lone tree grasping the edge of the canyon immediately caught my attention and begged to be captured. My travels, exploring new places, the unknown of the future all stared at me through that little tree on its perch above the black.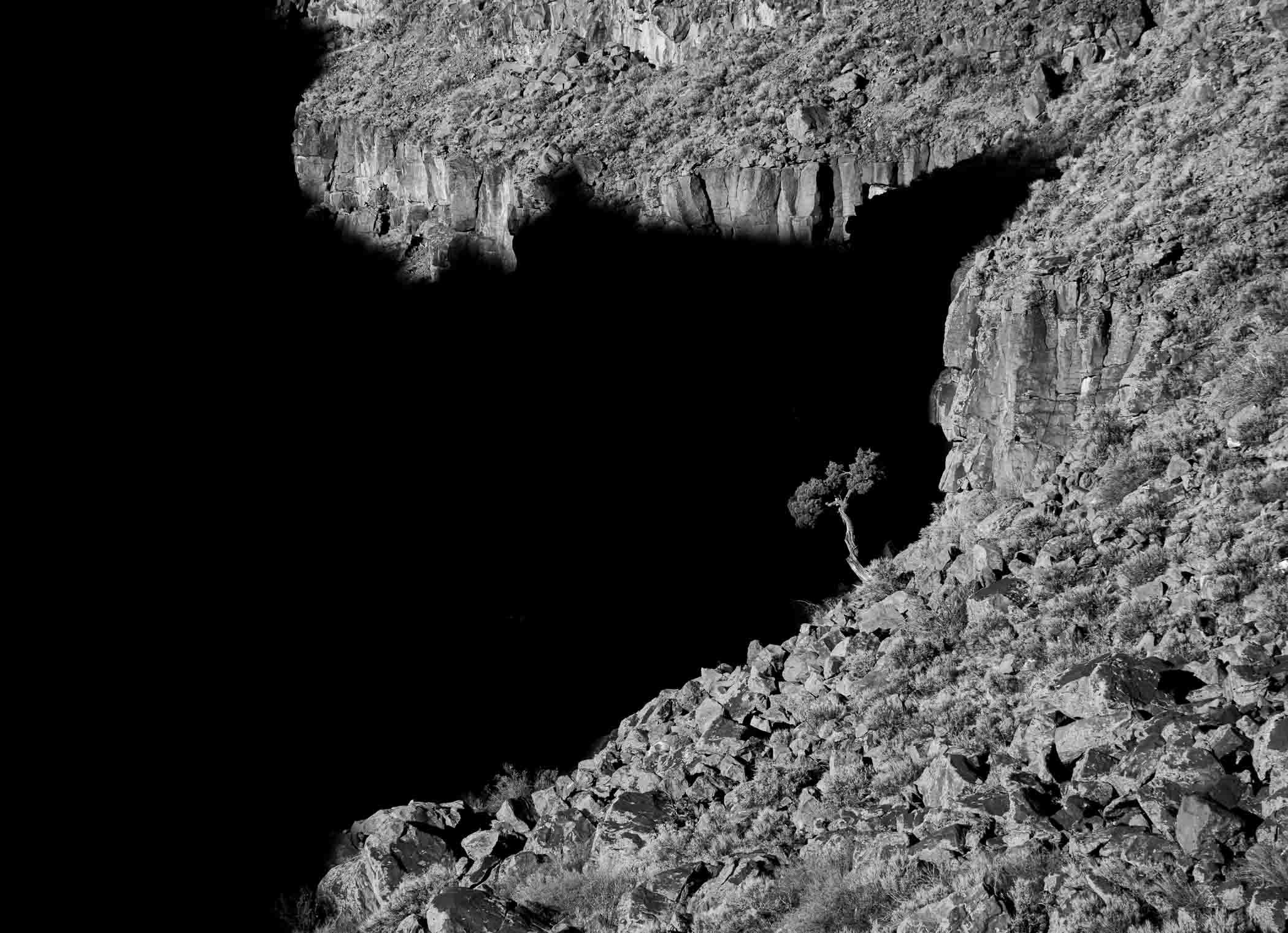 In close second is this more abstract one. I posed the question on Instagram of what people felt seeing this and got a really nice mixture of answers including: dread, cold, electric, Arcteryx, and fuzzy yet prickly. Considering my desire for abstract right now I loved the variety in answers. A fun exercise.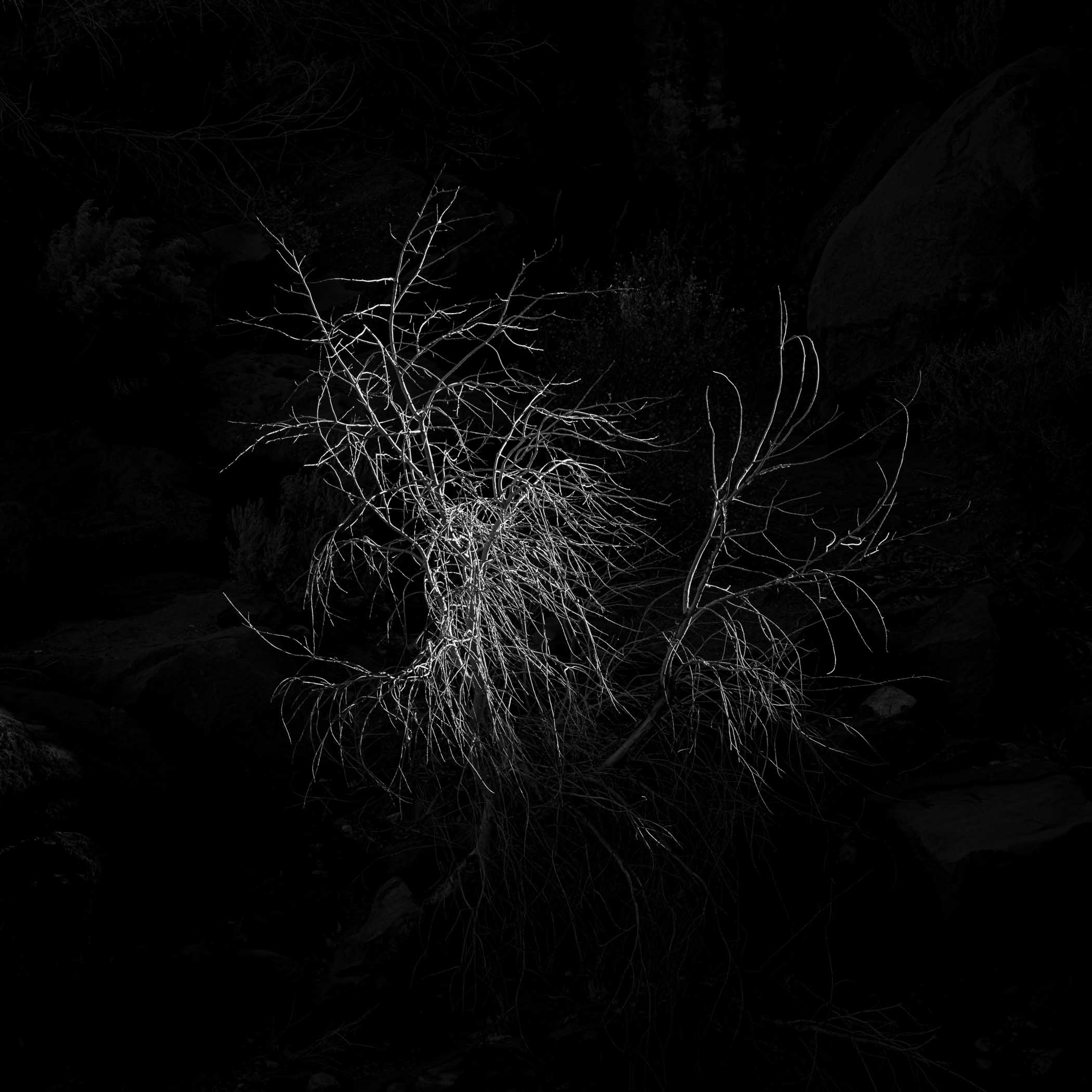 What do you see in this one? What do you feel when you look at it? Abstract photography feels like a new world for me, one my brain hasn't been trained to see, so it holds a lot of excitement.
Make the most of this weekend, another postcard from me soon.
—Al
P.S. I loved this rumination on writing by Blair Braverman in Outside Magazine. I've felt the need to be overly profound writing this newsletter at times which seizes me up. Better to be profilic than profound, and Blair gives a lot of great ways to do that and reasons to do so here.