Welcome back to Rambler, I'm your host Alex Eaton. This is my bi-weekly newsletter from the road documenting and discussing everything that comes with late 20s existential rhythms and a road trip. If you know a hitchhiker you want to pick up share Rambler with them, if you want to hop out you can unsubscribe anytime.
Yes, it's been a bit. Life got hectic and I haven't sat down to write outside work for about a month and a half. Last time I wrote about the small romances, like the cottonwood on the mesa in Durango that provided shade against all odds to make my morning coffee more comfortable. My time in Durango was winding down, and I was on my way to Iceland for 10 days with my good friend Nate. 'There's always a tree' was a fitting prologue to the monstrous task awaiting me here, to attempt to describe and encapsulate a place like Iceland. I will do my best.
Jurassic Science Fiction
Nate and I started our trip with the world famous Laugavegur Trek, a 35-ish mile route cutting south from Landmannalaugar to Thorsmork (you can also extend it all the way down to Skogafoss if you wish. You can also hike it south to north but the elevation gain is much heftier). We ended up logging about 56 miles over four days thanks to some memorable side-hikes and meandering.
The Icelandic highlands is a disconcerting place for a guy from central Indiana. I'm not sure how many places on Earth this happens, but for days at a time I felt like I was quite literally not on this planet. Everything around us was foreign, and not foreign as in different languages and culture shock, because if Iceland lacks anything its culture shock. I mean your mind not trusting what your body is feeling type foreign. Mentally and physically I was in different places. Physically I felt great. Iceland is generally low elevation and we never even got as high as where I lived in Durango. The hiking felt smooth and easy without the ailments of high elevation. Add in actual bathrooms, a banquet tent for shelter one day, and beers for sale and you could even call us spoiled.
Mentally I struggled to grasp my surroundings. The terrain was so much more varied than expected, the colors so deep, it was visual overload. One day you're in a small geothermal mountain range with camel colored sand, smoke billowing all around you from boiling potholes, entire hillsides covered in shocking teal, deep red, even pale white due to the bubbling beneath your feet. Next you're walking in Utah, except the ground is jet black and speckled with obsidian boulders. Still after that you're walking on a soft moss-covered trail through a perfectly flat, monochromatic green valley a half mile wide, as if Colorado's San Luis Valley suddenly got feet of rain a year and a fully torqued saturation slider in Photoshop. On either side steep volcanic slopes rise into the low cloud cover disappearing to who knows where. All the while you're just walking along, feeling completely normal yet convinced you've wandered into a digital render from a concept artist on DeviantArt.
The best succinct description I've come up with so far for the highlands is jurassic science fiction. You can't be sure whether you'll catch a glimpse of dragons circling the peaks above or if you'll find a UFO casually parked after a Sunday ride like your grandmas old Lincoln, the one that had seats so deep you couldn't bend your knees over the edges and rode so smooth it felt like being on a boat in the no wake zone.
I captured some of my best landscape photos I've ever taken during those four days, and I can't belittle them to living just on Instagram. So whether its a gallery or a photo essay, more to come from this trip.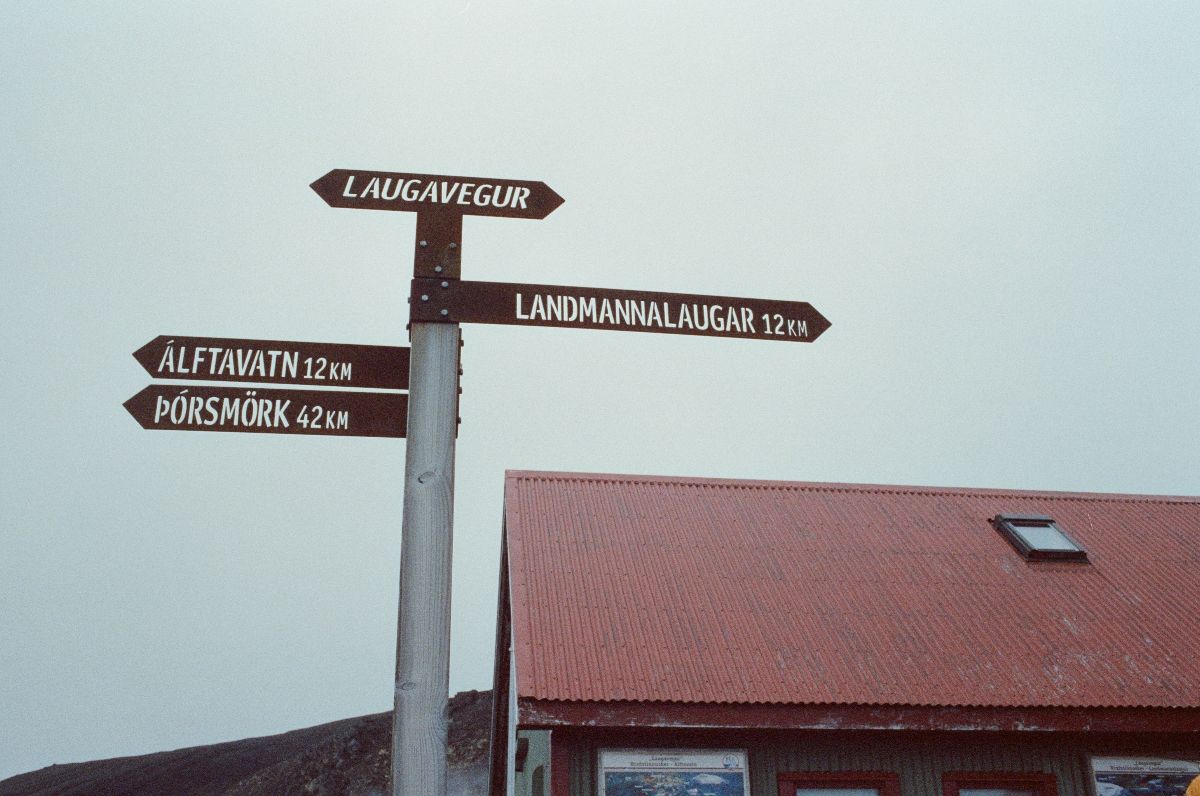 Sightseeing, really seeing
Before Iceland I hadn't been a tourist in a long time. Memories of tour buses and selfie sticks were long faded in my psyche and starting on the Laugavegur Trek didn't do much to rekindle the horrors of sightseeing. But a reckoning was coming and her name was Skogafoss Waterfall.
My relationship with touristy places has ebbed and flowed. On my first trip to Europe back in 2015 I was a tourist in full form, there is no denying it. In Colorado, where a different type of tourism abounds, I looked at Texans trying to hike in Vans in January with smug pretension. As I delved deeper into the wilderness I started avoiding popular spots like Dream Lake in Rocky Mountain National Park, a veritable highway of humanity year-round. How quickly I forgot that was me just a couple years prior, driving Trail Ridge Road for the first time, ogling at the towering north face of Hallett Peak, watching backcountry skiers skin by in winter with wonder before I joined their ranks.
Thankfully my smug phase didn't last very long. I've come around to the fact that touristy spots are that way for a reason. Usually they are worth the hype with the added bonus of being easy to access. The Maroon Bells in Aspen are a prime example. If you're at Maroon Lake alone even at sunrise know you have found a rare moment, it's the most photographed place in Colorado. But lordy is it a stunner. I think Maroon Lake is actually what started turning my opinion back around, making me glad more people can witness places like that. My frustration with touristy spots mostly lies with people being selfish idiots with no respect for the place or others. The other part just lies in the fact that I go to the mountains to get away, from people mostly, and as I've gotten more comfortable in that environment the urge to be alone with nature gets stronger.
Iceland is chock full of touristy spots right off the ring road that completely live up to the hype. Massive waterfalls, cascading glaciers, towering peaks down to endless beaches. We were at many spots at the fringes of the day, and I still found myself shooing off fellow photographers who were about to walk directly into my foreground… a big deal when shooting a pristine beach. A few days into sightseeing and we felt a different kind of tired. Lots of driving and crowds made us more mentally tired than four days hiking in the Highlands… I guess we found we preferred the physical toil to the mental.
What makes a good photo?
I also found my favorite photos aren't from any of these classic touristy spots. I'm glad I have them, but more as documentation of my being there than the photo itself. My favorites are the photos that feel more like mine, not one-in-a-million photos that everyone has. This is a theme that has come up again and again as I've delved deeper into photography. I never regret taking photos at popular spots, nor do I regret seeing them for myself, but you lose some agency photographing these places unless you find a truly unique perspective.
The problem I'm finding with this mindset is many of my favorite photos aren't necessarily my strongest photos. Slightly out of focus shots of us making coffee in the back of the Land Rover, a grainy foggy portrait of Nate enveloped in a sulfur cloud, my morning pepper jack cheese and jelly sandwich from when we were running out of food…all dear to me but not necessarily objectively strong photos. I feel an inherent need to try and make every photo strong, yet I've been having trouble separating myself emotionally from photos that make up for objective strength with personal meaning.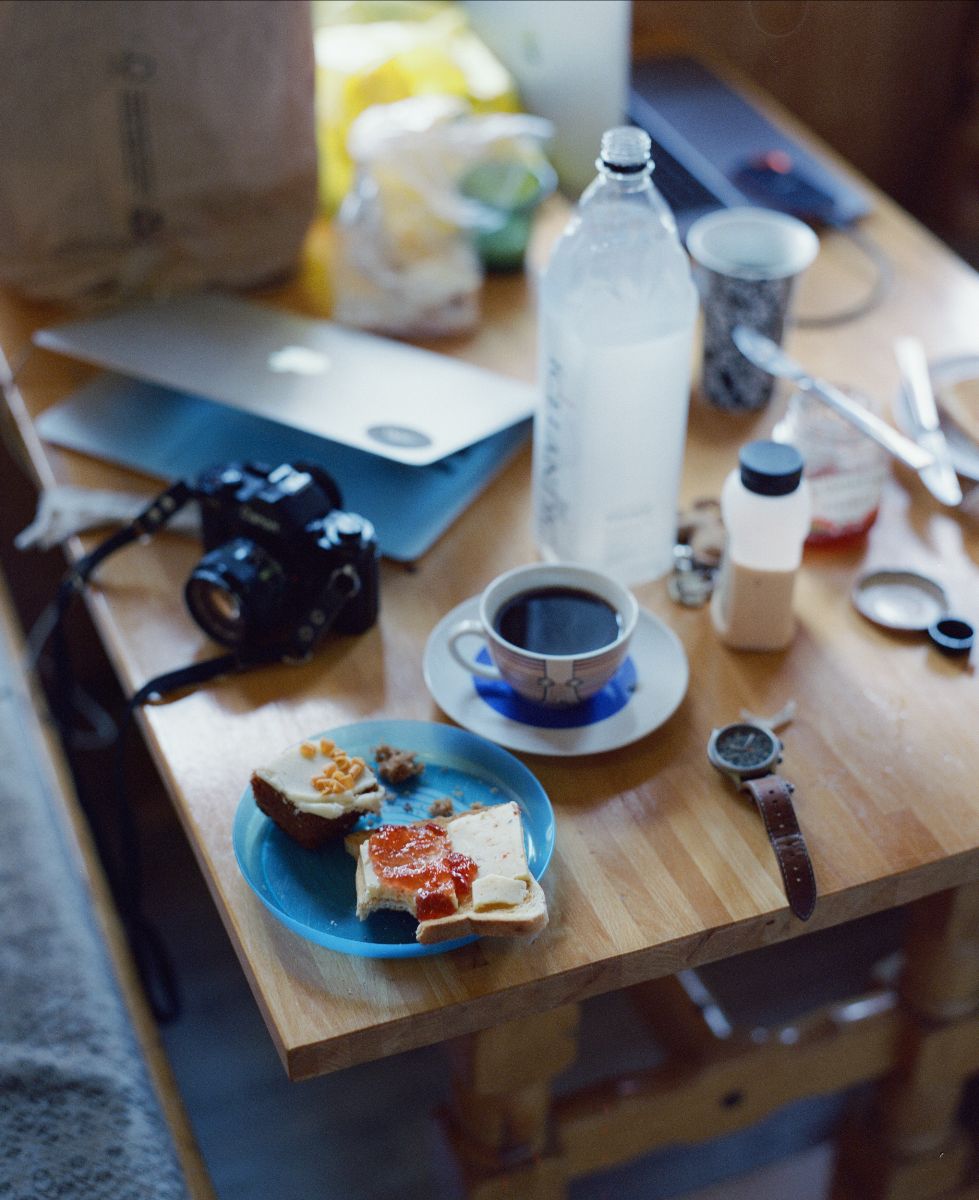 These personal photos will always have a place in my heart, but it's important to me that the goal be to make all my photos as strong as possible. I want my favorite, day-to-day snapshots to still be good. I relate it to the letters and journals of great writers. Although just their personal correspondence, their craft shines through in letters to friends, personal musings and diatribes. That's the level I seek. It's the level I've grasped in glimpses, such as the photo of my niece I wrote about, but can't find with any consistency yet.
The journey that never ends. Arguably it's what makes for the best pursuits in life. But that's another Rambler to be written.
So where the hell are ya?
Northern New Mexico. The last Rambler went out when I was finishing my time in Durango and heading to Iceland. Since then… well a lot. Southern California, Mt. Whitney, Red Rocks, moonlit nights on the beach, car troubles, family time, just about everything except photos and writing. But I decided to lean into it, there's a phase for everything and it felt right. Now I'm in a quaint, colorful house that reminds me of my home growing up surrounded by art galleries and trails. I have more time to myself than I've had in years and I'm going to lean into that too. Talk soon.
Tips Stetson,
Al